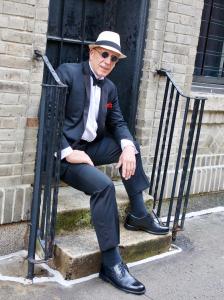 PRESS RELEASE
FOR IMMEDIATE RELEASE
August 17, 2017
CONTACT:
Kamelia Fisher, Executive Director, 330-376-8480, kamelia@summitartspace.org
Amie Cajka, Communications, 330-687-3748, amie@summitartspace.org

SUMMIT ARTSPACE BRINGS FOUR DECADES OF
JACK DIAMOND'S ART TO NINE MUSES IN BARBERTON
BARBERTON, OH— One of Barberton's most successful artists, Jack Diamond, will show four decades of his art at Nine Muses Art Gallery in Barberton opening with a reception on August 25.
With studios in Barberton and New York City. Diamond will be on hand for the free opening of his one-man show, Jack Diamond in 4D, from 5 p.m. to 9 p.m. during Barberton 4th Friday. The exhibition runs until October 14.
Nine Muses, located at 584 W. Tuscarawas Ave., is operated by Summit Artspace, the community art center for Akron and the surrounding area.
Diamond describes himself as a storyteller without words but using color, line...